The Concept
To hail the arrival of a new age of electric guitars, we at Kz Guitar Works have begun producing a guitar that we believe will set the standard for this new age; a guitar we call the "Kz One Standard".
Through careful, delicate and dedicated craftsmanship, we have produced a guitar that takes the concept of electric guitars to a new level.
We say with pride that there are sounds only this guitar can produce.
Through this guitar we aim to set a new standard for electric guitars.
Specs
HAND MADE IN JAPAN
Hand made with pride from Japanese craftsmen.
HEAD
Incorporating a ten-degree head angle and keeping the strings linear from the neck to peg enables tuning stability while minimizing nut friction.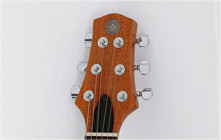 NECK
The set-in Honduras Mahogany neck incorporates a medium-fat grip. The neck thickness is resistant to warping and provides unique tones to the guitar.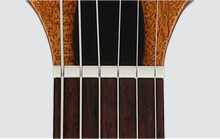 FINGERBOARD
22–fret Madagascar Rosewood with 635mm. (25in.) scale used. Fingerboard width is nut-end 43mm, fingerboard-end 57mm. The carefully crafted round-edge and 12 inch radius fingerboard makes playing easy and comfortable.
TUNERS
GOTOH locking pegs used. These pegs are designed to allow precise tuning and simple string replacement.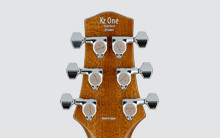 NUT
TUSQ XL nut used. This nut is noted for its tuning stability and rich sound in all ranges.
BODY
Constructed using a Hard Rock Maple Top and Honduras Mahogany body, the semi-hollow body provides the guitar with unique tones while keeping it lightweight for easy usage.
FRETS
JESCAR medium size frets used. The 12-inch radius frets offers the player precise pitch, smooth fingering, and easy string bending.
FINISH
The ultra-thin polyurethane finish used on the guitar enables the longevity of the instrument while not sacrificing the guitar's natural sound.
PICKUPS
Kz One Guitars as a standard use original KGW pickups. The single-coil pickups provide powerful, straight tones from a wide range of sounds. They also feature low noise (hum).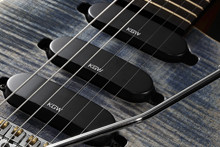 CONTROLS
Two knobs and four switches compose the control panel. The three linear switches control on/off for each of the pickups while the series/parallel switch allows the player to choose between series or parallel wiring. The knobs control master volume and master tone for all three pickups. If pulled up, the knobs also act as phase switches for the neck and middle pickup. All together, 23 different sounds can be created with the guitar.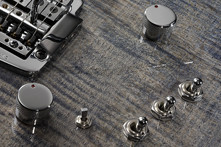 BRIDGE
Standard issue bridges for Kz One Guitars include a modified Kahler tremolo unit or a fixed Tune-O-Matic bridge. If requested, the Kahler tremolo can be replaced with a fixed Kahler bridge. Regarding the Kahler tremolo, it has been modified by removing the fine tuners.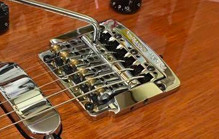 STRINGS
Kz One Guitars as a standard are issued with Elixar light gauge strings (.010~.046). These strings have excellent coating, allowing for very long usage. The strings are also noted for their powerful and unique sound.
CASE
As a standard, one semi-hard guitar case comes with the guitar.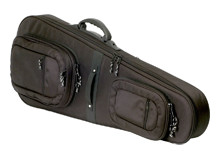 If requested, a Duplex Flight Case may also be ordered. (Build to order)
Testimony From Guitarists
Daniel Gomez (Guitarist, We Will Rock You Musical)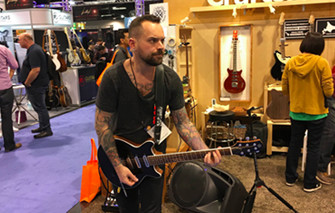 "The first time I saw the Kz One Standard design, I had to blink once or twice. That was a truly inspired vision; a high quality crossover between legendary old lady, a kahler loaded 84 guilds, a double cutaway Les Paul with a contemporary twist and Kz's own flavor. It is amazingly designed by master luthier, Kazutaka Ijuin, at the Kz Guitar Works for a wider public segment than just the queen aficionado and ready for the professional player that is searching a versatile weapon of choice. It is a guitar for pretty everything on the set. The guitar keeps the flame on classic designs, but reassigning them on a more player friendly package with clever and minimal switching method. It is providing a full array of vintage and contemporary tones, wide trusty vibrato system and locking tuners for excellent and expressive performance. This guitar has both classic and avant-grade look and feel."
Brent Muscat (Guitarist, Ex. Faster Pussycat)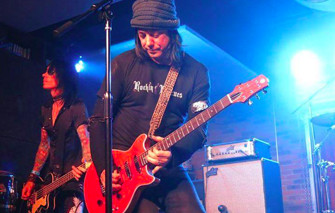 "I am so happy to have this handcrafted guitar built for me and my style of playing. It is versatile and the sustain is awesome. I'm able to play not only rock and roll but clean country as well. I've never played a guitar like this before in my life Its resonance is in there and the sound and vibration of it just so awesome. I'm really excited to play it live, bring it out, and show it off. I gave it a name….since it is from Japan I have named it " SAKURA " which means Cherry Blossom, because it was built in Spring and from Japan and right around the time that the cherry blossoms were blooming. I couldn't be happier. Thanks to Kz Guitar Works."
Kazuo Shimizu (Guitarist)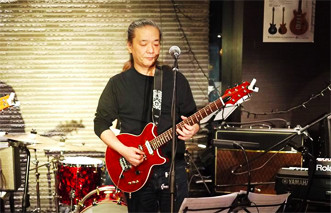 "The moment I held this guitar, I was truly touched. Of course it was very special because Kazutaka created this original guitar applying the knowledge and the technology he extensively studied from the Red Special.
The design, Materials and the finish, all of these aspects show how much he put his thought on it. It is easy to play. The sound is very close to the Red Special, yet it has its own uniqueness. I believe it will attract many guitarists. Hope you have a chance to play this fantastic guitar!"
Kazumaro Kominami (Guitarist)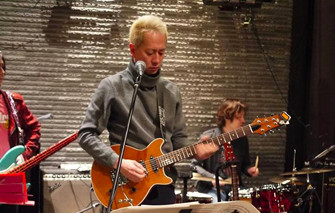 "In my previous live performance, I used a Kz One and this time I used a Kz One Standard. I totally felt the difference between two, which comes from originality of Kz Guitar Works. This does not mean the guitar has a tricky uniqueness to play, but actually very easy and fit to your hand naturally.
Though it is an electric guitar, yet it also has an acoustic sound quality.
It has a single coil and wide range, but it has enough power to produce the great sound. The Kahler Tremolo for the bridge works smoothly, and all the parts that compose this guitar create a variety of sound like magic.
I look forward to seeing further progress for this guitar, and hope everyone would have a chance to experience this magical sound of the Kz One Standard."