KGW Bolt-On 22
The new model KGW Bolt-On 22 from our new brand "KGW" is born! The guitar is fitted with three single-coil pickups which can be used individually or combined in seven different ways including two humbucking modes. The model is made in a Japanese factory, and each individual guitar is inspected and adjusted for the highest playability in our own shop here in Zushi.

▲KGW Bolt-On 22 (OCR)
Price 1,980 USD
【Demo by Perfecto De Castro】
【Demo by Tomoya Nishio】
【OVERVIEW】
The "KGW" is the sister brand of our Kz Guitar Works. Their basic parts like bodies and necks are made in a Japanese factory, but the final works like the crowning and the dressing of frets, smoothing the edges of the fingerboard, assembling parts and final adjustments are undertaken in our own shop in Zushi.
The design of KGW Bolt-On 22 is based on our Kz One, but we employed the bolt-on construction for the body-neck joint. The electric parts are assembled on a pickguard. It is fitted with a synchronized tremolo bridge.
The pickups are newly developed KGW-minis. They share the characteristic sound and low noise performance of our KGW Original pickups, but their responses are tuned to be more easily manageable for the guitarists of all different levels.
The guitar has a five-way pickup selector switch and a serial-parallel selector switch. You can intuitively select seven different sounds.
This high-spec guitar can be had for less than 200,000 JPY. KGW Bolt-On 22 will offer the joy of experiencing the Kz Guitar Works quality at a more affordable price.
---
【DETAILS】
■Body
Contoured design for better fit and neck joint for better playability
A two-piece alder body has an elbow cut and a waist cut for the guitarist to hold it comfortably. The area around the body-neck joint is cut boldly, to offer, along with the omission of the mounting plate, high playability and better resonance.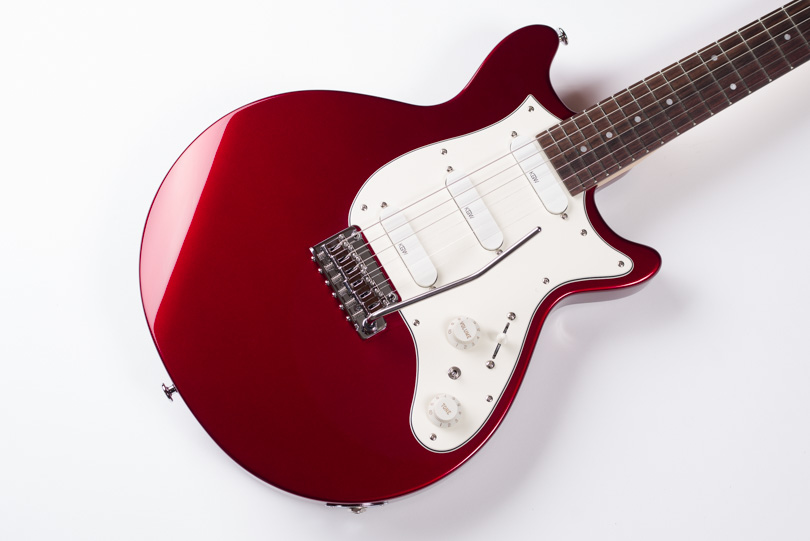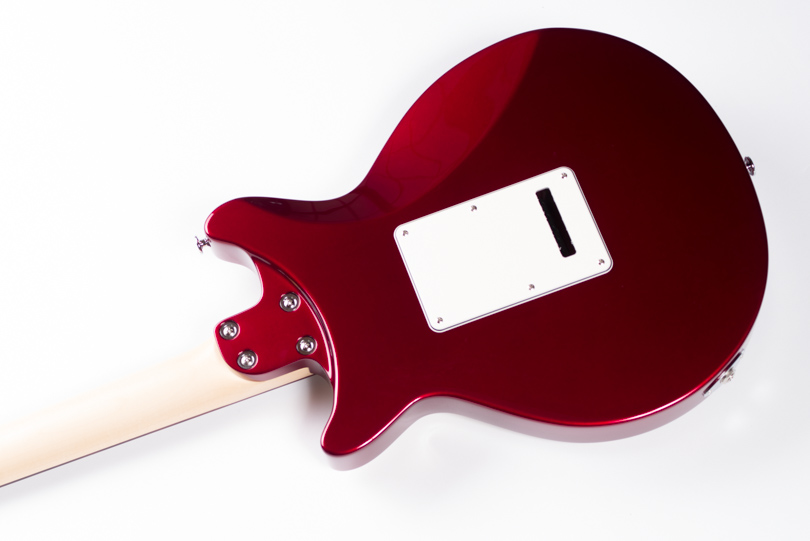 ---
■Neck
25" scale, new "Slim C" grip and dressing of fingerboard at Zushi workshop offering highest playing feel.
The wood material for the neck is maple and rosewood for the fingerboard. The scale is 25" (635mm), just like our Kz One and other higher-end models.
We selected the new Bolt-On "Slim C" grip for this model. The width of the nut and the thickness of the neck are the same as those of our conventional Bolt-On "Modern C", but the round shape of the grip is modified for a slimmer feel.
The final processes like the smoothing of fingerboard edges and the crowning of frets are undertaken in our Zushi workshop before each guitar is shipped. You can be assured to enjoy the same standard of high playability set by the higher-end models like the custom line of Kz Guitar Works.


【Befor】
【After】
---
■Assembly
New sound character offered by the assembly on a pickguard
The pickups and other electric parts are all assembled on the pickguard, which realizes the brighter sound and the lower production cost. You can get the essence of Kz Guitar Works products for less than 200,000 JPY. And you get newly developed KGW-mini pickups.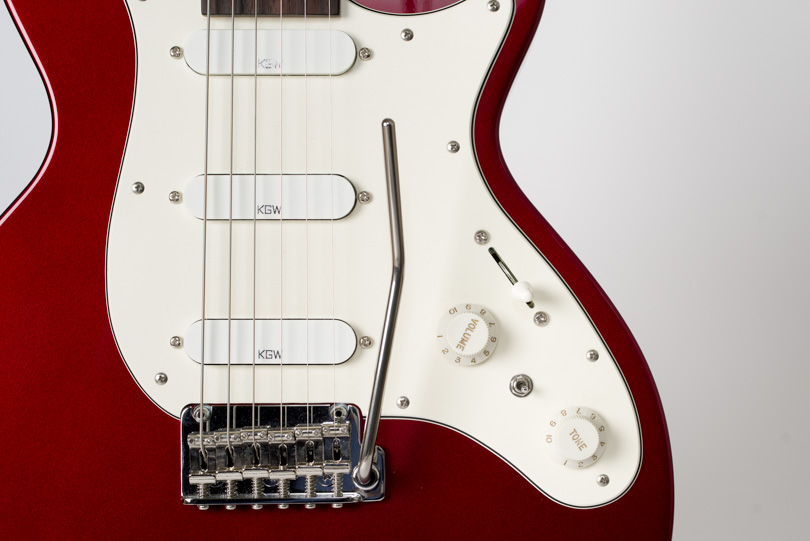 ---
■Pickups
Newly developed KGW-mini pickup promising low-noise and responsive operation Kz Guitars pickups are known for
KGW-mini shares its basic construction with KGW Original pickup but is designed for a smaller package.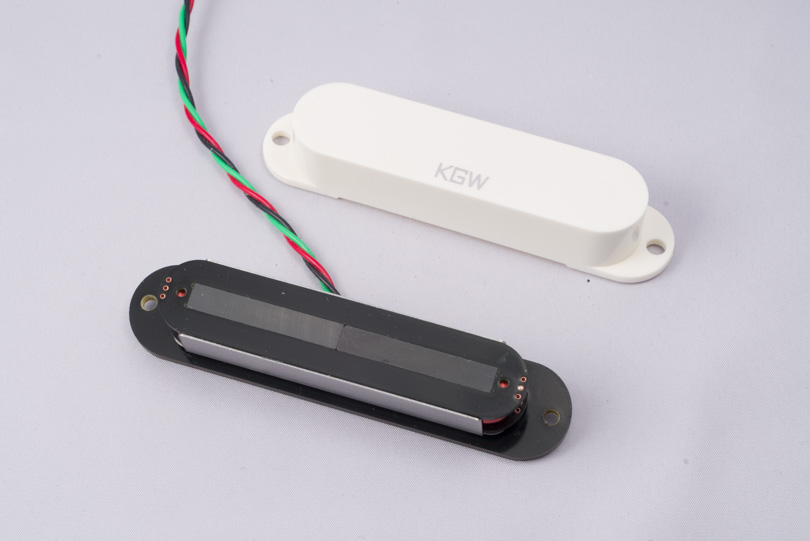 As with the case with KGW Original, KGW-mini is based on the construction of the British pickups from the 60s that were mounted on the Red Special, but it is redesigned to satisfy more modern requirements. It uses a bar-type ferrite magnet which offers vastly different sound compared to the single-coil pickups using six polepieces made of the alnico magnets.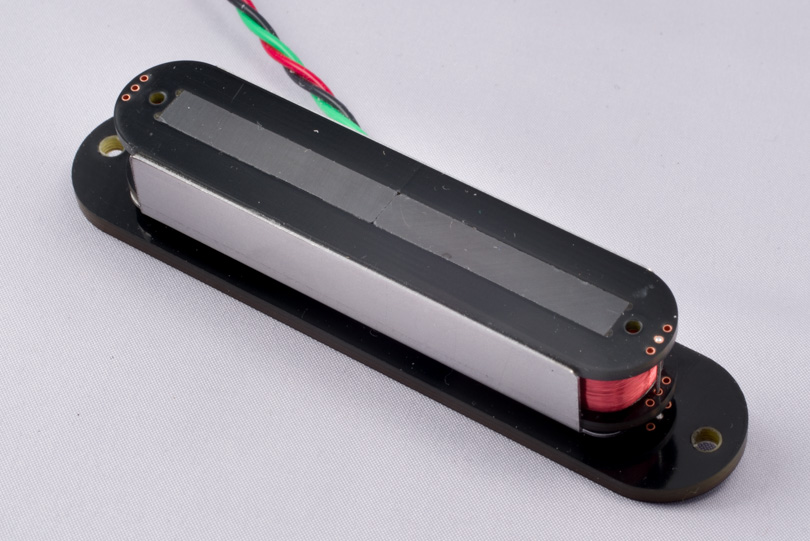 The construction depicted above results in not only the distinctive sound but also…
Lowernoise
Wider frequency range
Responsiveness to convey various picking nuances.
And so on…
KGW Original was developed based on the inputs from the professional guitarists and is highly responsive to the expressive and dynamic picking nuances. However, that may be a little too demanding for more casual players. KGW-mini is designed for comparatively easier handling in a smaller package.
By making it smaller, the magnet and the coil of KGW-mini was tuned for the output level of other common single-coil pickups, which makes it easier to handle for more casual guitarists.
As a result, the response of KGW-mini is easier to handle for the guitarists of any level while retaining the low-noise operation and the distinctive sound character.
---
■Controls
Five-way SW and series/parallel SW offers distinctive and various sound. Two different humbucker sounds out of three single-coil pickups.
The controls of KGW Bolt-On 22 consist of…
1volume and 1 tone knobs
Five-way lever switch
Series/parallel switch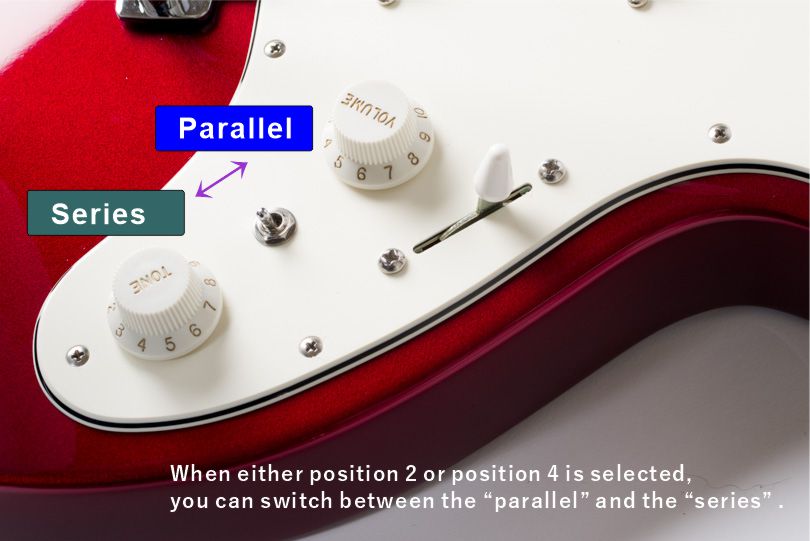 The series/parallel switch selects the series- and the parallel connection of two of the three pickups when used simultaneously.
Here is how you get the sound:
When either position 2 or position 4 is selected, you can switch between the "parallel" (for crisp half-tone sound) and the "series" (for powerful humbucking sound) positions.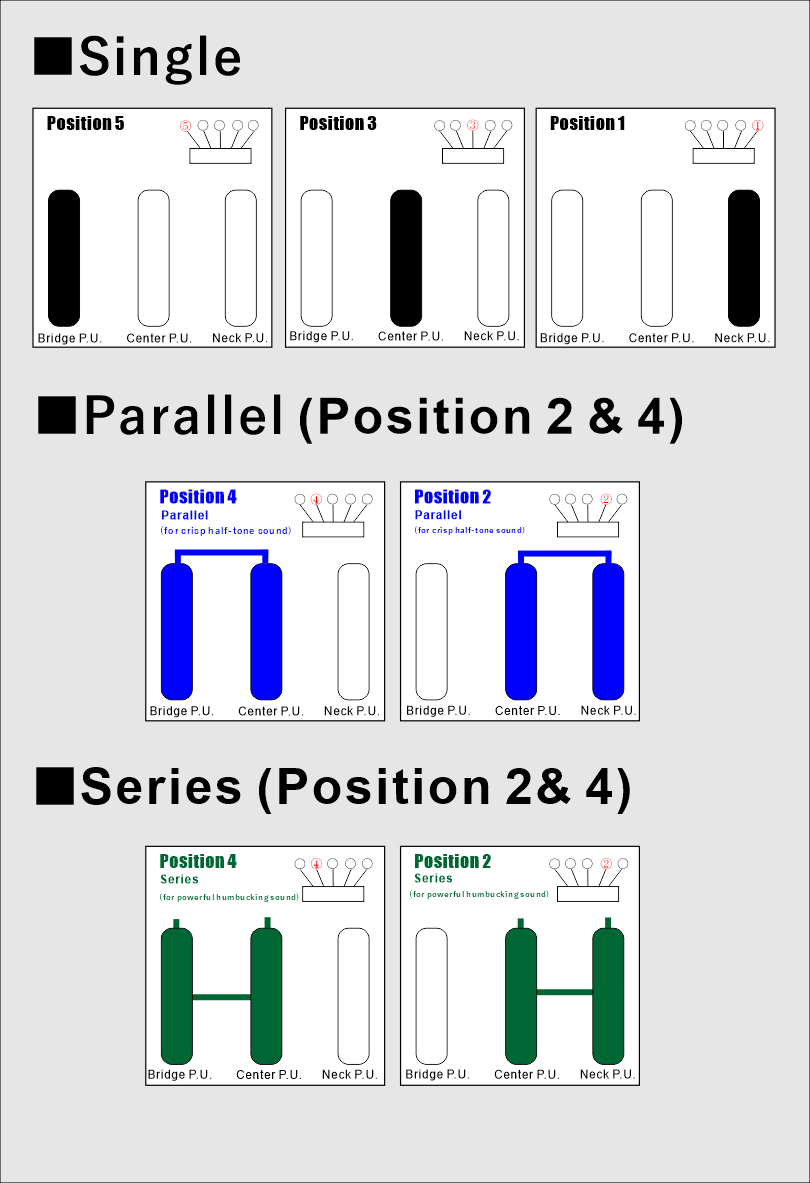 As explained in the chart above, you can choose between the "lighter and quicker" sound and the "fat and heavy" sound in addition to the highly responsive sound similar to that of Kz One.
---
■Bridge
Synchronized tremolo unit with carefully selected string spacing and material
KGW-mini is equipped with Gotoh 510T-SF1 synchronized tremolo unit. The saddles are of pressed steel, and the string spacing is carefully selected 10.8mm.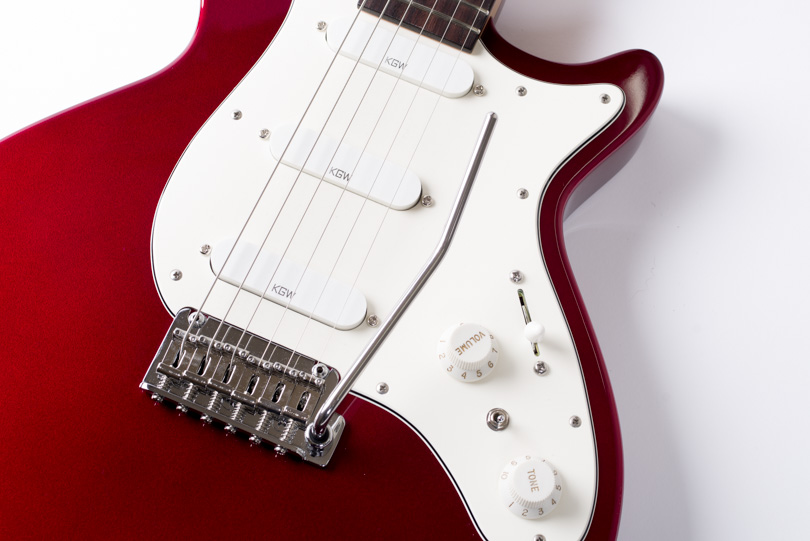 ---
《SPEC》
■Body: Alder 2P
■Neck: Maple, Bolt on
■Scale Length: 635mm (25")
■Fretboard: Rosewood, 12"R
■Body Depth: 45mm
■Neck Grip: Bolt-On Slim "C"
■Nut: Bone Nut
■Fret: 214H (1.3 x 2.4mm), 22F
■Pickups: KGW-mini x 3
■Bridge: Gotoh 510T-SF1
■Machine Heads: Gotoh SG 301
■Controls: Volume x 1, Tone x 1
■Series/Parallel x 1, 5way Lever Switch
■Color: VHW, BLK, LPB, OCR, 3TS
■Case: Gig-Bag
---
KGW Bolt-On 22 2H6
KGW Bolt-On 22 2H6, a new variant of KGW Bolt-On 22 offering comfortable fit to the body and pleasant feel of the neck grip, is born.

▲KGW Bolt-On 22 2H6 (LPB)
Price 2,090 USD
Kz Classic Humbucker & Tap switch
KGW Bolt-On 22 2H6 is equipped with two Kz Classic Humbucker pickups. Kz Classic is a 50s style humbucker using alnico II magnet. It is rather an orthodox vintage type pickup but tweaked to be more responsive to the picking nuances.
The pickup has been used for Kz One with mahogany body but is selected also for the KGW Bolt-On 22 series guitars with alder body. It offers fat and crispy sound even combined with the guitar of the alder body and the maple neck.
The controls consist of 1 volume, 1 tone, a three-way lever switch and a coil tap switch which offer six different sounds to choose from by simple operations.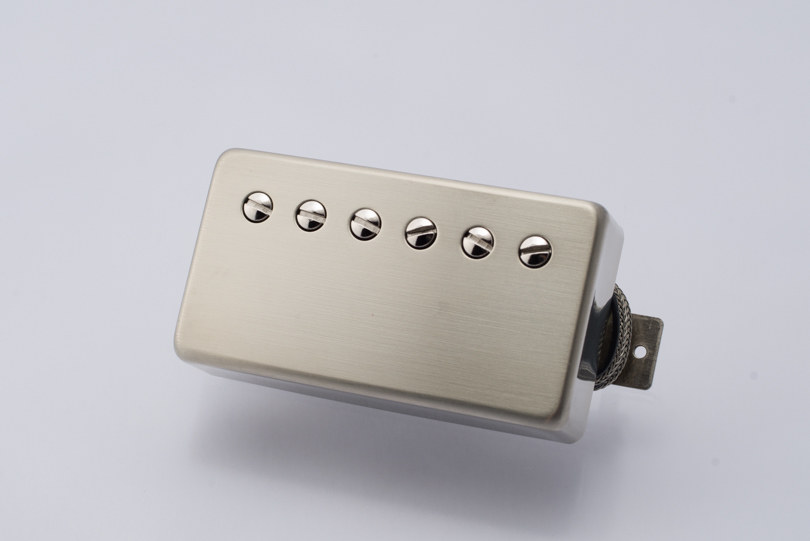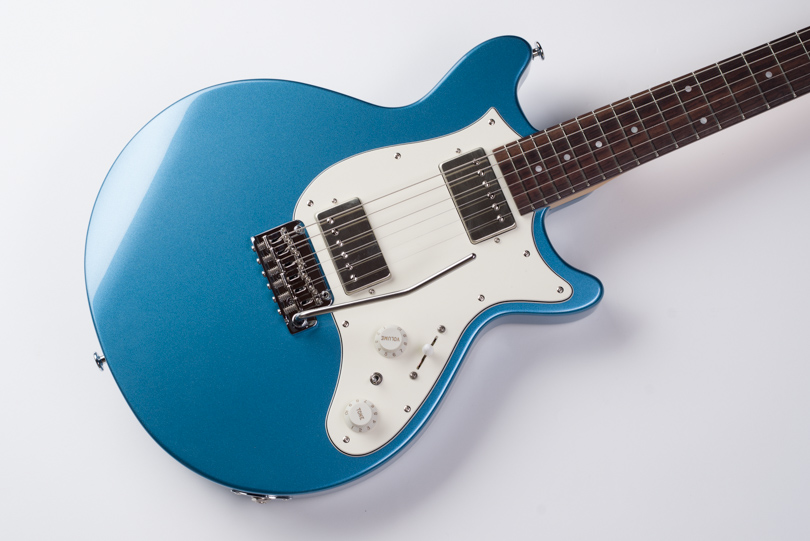 ▲The simple controls with 1 volume and 1 tone knobs. The pickup selector is of a three-way lever type. The mini-switch is for the coil tapping of the humbucking pickups.
---
■Five colors to choose from (as of
October

2021)
VWH
BLK
LPB
OCR
3TS
---
■Dedicated gig bag to come with KGW Bolt-On 22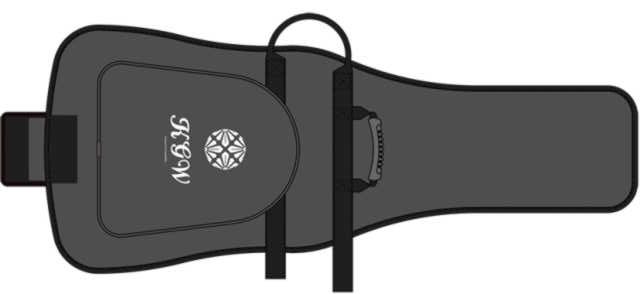 ---
■KGW Bolt-On 22 SSH Prototype

・Neck Pickup : KGW-mini
・Middle Pickup : KGW-mini
・Bridge : Kz Classic Humbucker
・Mini Switch : Coil Tap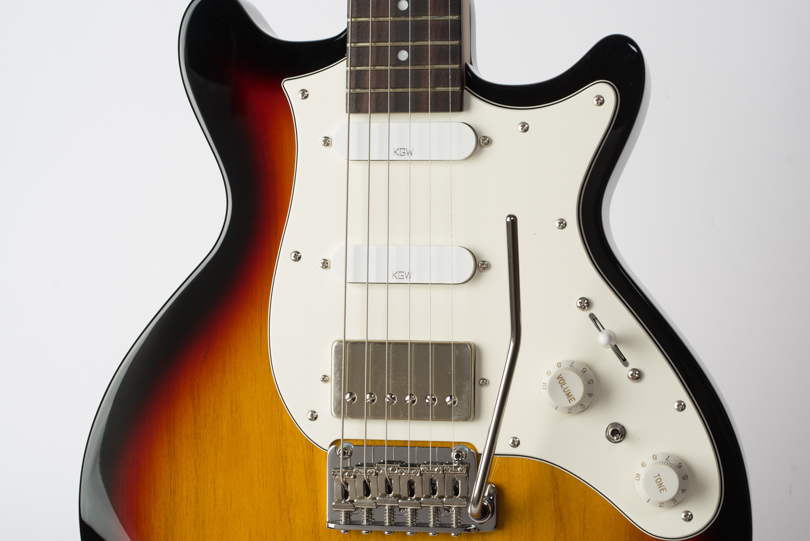 This product is a prototype. The price is undecided. Product names / specifications are subject to change. Please note that point.
■KGW Bolt-On 22 HSH Prototype

・Neck Pickup : Kz Classic Humbucker
・Middle Pickup : KGW-mini
・Bridge : Kz Classic Humbucker
・Mini Switch : Coil Tap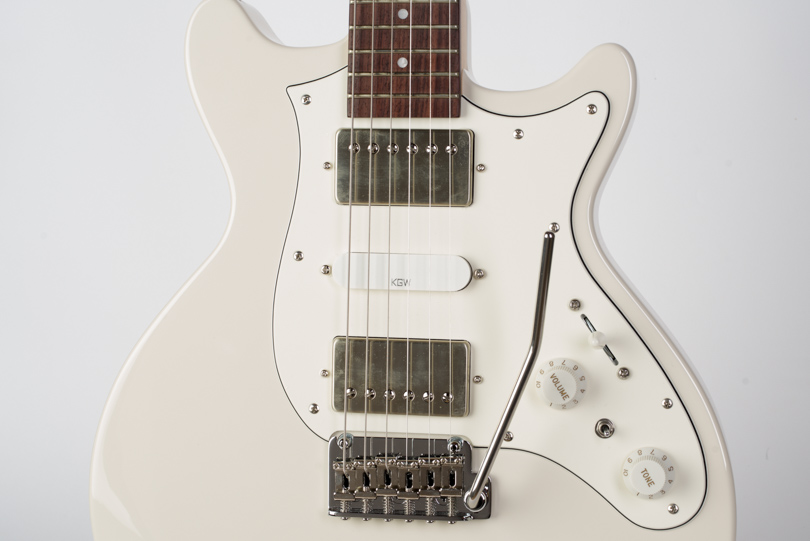 This product is a prototype. The price is undecided. Product names / specifications are subject to change. Please note that point.
---




---
※掲載内容・価格は2021年10月時点の情報です。
※製品の仕様/価格などは予告なく変更となる場合がございます。
※写真のカラーはサンプルです。またモニターなどの状況で異なる色に見える場合がございます。